Unified Monitoring for Real.
Unified Monitoring
GroundWork monitors your entire datacenter and collects all it's information in one place, helping to make better sense of your IT environment performance and availability data.
Monitor clouds, virtualization hypervisors, applications, servers, network devices and more
Monitor hybrid cloud environments, as well as traditional datacenters
Uses GroundWork Cloud Hub to unify data from VMs and Clouds
Uses GroundWork Log Hub to put all the log data in one searchable, indexable place
Optionally integrate with other monitoring systems for a manager-of-monitors (MoM)
Utilizes visualization and to present graphical representations of devices across IT environments
Open Platform for IT Monitoring and Operations
GroundWork unifies the best technology for monitoring, and can add your own favorite or needed tools in a single, secured monitoring environment.
Portal UI powered by full version of Red Hat JBoss Portal 6™ allowing for extreme customization
REST API for easy web services integration to other IT operations tools like ticketing or provisioning systems
Scores of best-of-breed open source IT monitoring and management tools already built in: Nagios™, Cacti™, NeDi™, NagVis™, NoMa™, RRDTool™, SyslogNG™ and more.
Broadest coverage of compatible plugins and profiles on the market
Visualization
To see is not necessarily to know. GroundWork offers multiple "at-a-glance" views that quickly help managers get answers and help operators find explanations. Knowledge shines out from the sea of data with these features:
Powerful Dashboards show graphs and status in real-time
Get insights from all your log data in the GroundWork Log Hub
See the context for any data with a click to jump
Business Service Monitoring lets you measure more than memory, disk, CPU, etc.
Correlation
Individual events can be important or not based on the context. See that correlated context instantly.
Event masking and dependency mapping for downstream alarm suppression and avoidance of alarm storms
Event aggregation and de-duplication
State engine cuts through the noise clutter and tell you what you need to know (instead of bugging you about what you don't)
Gather VM, Cloud, and Log Data into a GroundWork Hub for advanced correlation
Actions Menu for creating scriptable responses to events, such as: open a trouble ticket, reboot a server, etc.
Secure & Scalable
The security and scalability of the organization is the security and scalability of IT. GroundWork can provide that for itself and extends its protections to other tools in the IT environment.
Unified Portal architecture starring Red Hat JBoss Portal (unique in IT Monitoring)
Single Sign-On is superior to individual bucket of parts
Proven scalability from battle-tested components
Integrates with Active Directory, LDAP, and more
Encryption throughout
GroundWork Cloud Hub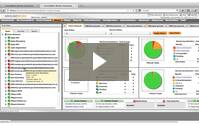 Communicates with multiple cloud platforms
Queries virtualization and cloud management systems periodically to detect changes in the environment.
Provides discovery and auto-registration of application servers running in the cloud.
Provides both hypervisor and 'below the hypervisor' metrics to systems management platforms.
Runs as an independent application with the ability to operate on a separate machine from GroundWork Monitor for additional scalability or topological flexibility.
Operates an open standards-based, web services communications and open API.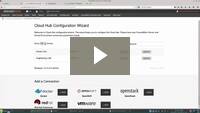 Provides enhanced performance monitoring for production deployments of Docker and linux containers.
See your Docker container performance monitoring data alongside the rest of your infrastructure – your network, storage, hardware, hypervisors, and cloud.
Lives inside a container, where it monitors other containers running on the same system.
Automatically updates and monitors new containers as you spin them up.
Works with GroundWork 7.02 or later, including free GroundWork Monitor Core and Cloud Hub.
Freely available on Github.